1973
The history of mobile phones starts on the 3rd of April 1973, a senior engineer working for Motorola called Martin Cooper used a mobile phone to call a potential competitor in the mobile phone market. This was the first mobile phone call ever made.
Weighing 1.1kg, the phone that Cooper made the call from had measurements of 228.6mm by 127mm by 44.4mm and weighed 1.1kg. It was a prototype which took about ten hours to charge and you were able to talk for 30 minutes.
1983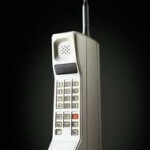 10 years later in 1983, the Motorola DynaTAC 8000X came onto the market costing just over a staggering €3,000. It was the first mobile phone to be released commercially offering 30 minutes talk time, with a facility to store 30 numbers and standby time of 6 hours. Several versions were made between 1973 and 1983. The products size and weight were reduced and in addition to the typical 12-key telephone keypad, it had additional special keys for storing, sending, recalling, locking, volume…
There is no doubt that in the early days mobile phone marketing was aimed at successful businessmen and the very wealthy. Even so, consumers were so impressed by the concept of always being accessible with a portable phone that waiting lists were in the thousands, despite the initial high retail price.
Cost: $9,000 (in today's money)

Smaller in size to previous

model

s

New function keys including memory to store thirty numbers

Talk time: 30 minutes, charging time: 10 hours

LED display
1990: Nokia enter the arena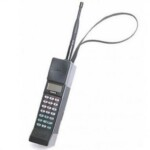 In 1898, Eduard Polón founded Finnish Rubber Works, manufacturer of rubber products, which later became Nokia's rubber business. At the beginning of the 20th century, Finnish Rubber Works established its factories near the town of Nokia, Finland, and they began using Nokia as its product brand. In the late 1980's the company decided to focus solely on the fastest growing segments in telecommunications, principally mobile phones.
Nokia had jumped on the bandwagon as a serious competitor to Motorola but the handsets were no more affordable. Made available to the public in 1989, Nokia offered its Mobira Cityman900, a handset weighing a mere 800g representing an enormous improvement on previously released "brick like" models.
Cost=€9,500 (in today's money)

Reduction in weight and size

Talk time: 50 minutes, charging time: 4 hourLock and release the phone lockChange the country code

Last number redial

Duration of the talks

Set the keyboard and display lighting

Function display buttons

Set ringing volume

Display own number

Signal strength indicator

Battery indicator
Between 1990 and 1995 as technology advanced, the portability and design of mobile phones made them available to average consumers and by the end of 1990 they became the norm rather than the exception.
1997: Remember snake!
In 1997 the Nokia 6110 was the handset of choice for many people. The main improvements over previous models were reduced size and improved talk time. It was also the first GSM phone to use an ARM processor. It also had an infrared port, interchangeable face plates and menu icons on the screen. Thanks to this phone, text messaging became mainstream in many countries. In 1998, Nokia passed the milestone of 100 million mobile phones manufactured. During that year, they sold 40.8 million phones. Nokia officially became the world's largest manufacturer of mobile phones.
Cost:€1000 (

today's

money)

Talk Time up to 3.25 hours

Profile settings

3 Games – Logic, Memory and Snake

Calendar, calculator and clock

Pager facility

Currency converter
1997: The cool Clamshell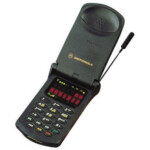 The Motorola StarTAC was also popular in 1997. The inspiration for its design came from the communicator on Star Trek and pioneered the first clam-shell handset in the world, 60 million StarTACs were sold. StarTACs remained popular until the early 2000s, appearing in many Hollywood movies of the period such as 8mm starring Nicolas Cage.[wiki]
Cost:

$1500 (in today's money)

SMS text messages,
Introduced clam-shell design
88 grams
It could use an optional lithium-ion battery, at a time when most phones were restricted to lower capacity NiMH batteries
1999: Introducing Blackberry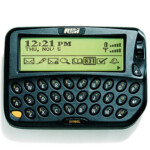 In 1999 the first Blackberry entered the market, manufactured by a company that would be crowned the fastest growing organisation on earth – Research in Motion Limited (RIM) 10 years after they released the Blackberry 850.
The BlackBerry 850 was one of the first mobile devices released under the BlackBerry brand name. The mobile communication device had a full keyboard, which was unusual at the time. It could send messages, access email, send and receive pages and act as a basic organizer. The BlackBerry 850 had a very small screen that could display a mere eight lines of text.[ehow]
In the three months following its announcement RIM's stock went up 50 percent from just over $22 to around $33.50
Cost:

$527

[wiki] (in today's money)

4MB of memory

powered by one AA battery

weighed 133g, which is exactly the same as an iPhone 3G

sending messages, email

QWERTY keyboard
2000: The famous Nokia 3310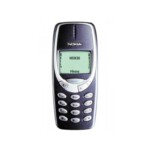 The Nokia 3310, if you grew up during the mid to late 1990's was the mobile phone that everyone wanted and indeed most people had. Even today, the Nokia 3310 is still regarded as the most indestructible mobile phone ever made. The antenna was designed into the phone itself. Although, aesthetically more pleasing this was the beginning of antenna "size shrinkage", which would fundamentally lead to poorer phone reception in future models down the line.
126 million units sold

long messages three times the size of a standard SMS text

voice dialing
Sound and Video
2000: First Camera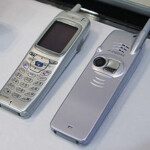 The first camera cell phone introduced commercially was the J-SH04 in Japan and the Sharp Corporation in November 2000. Priced at $500 US, the J-SH04 had a 110 000 pixel resolution (0.1 megapixels), a color LCD screen, one-touch Internet access and a speaker phone.
2001: First Mp3 player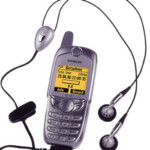 The first MP3 player phone was the Siemens SL45. It had a memory expansion slot and an MP3 player[wiki].
It also had a dicta phone and a WAP browser.
2002: Colour screens, larger screens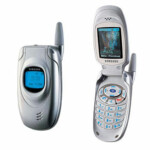 In the days before Samsung achieved world dominance they released in 2002, the SGH-T100, the first mobile phone using a thin film transistor matrix LCD display.
This was really the beginnings of a new breed of larger, higher resolution full color screens. Multimedia took on a new dimension from this point on. Not only was the screen bright, clear, and colorful, but was also quite large at 128×160 pixels. As it happened, Samsung was one of the world's premiere LCD display manufacturers at the time.
The phone also had Polyphonic ring tones. This means that the sound system has multiple separate voices, each capable of creating a different sound at the same time. This allows the phone to create much better quality musical sounds.
2004 to 2006: Slim is cool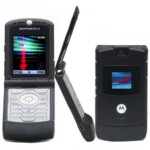 The Motorola Razr V3. The best selling clamshell handset ever to be sold on the planet, selling 130 million units from 2004 to 2006. It was initially marketed as an exclusive fashion phone and had the thinnest profile at the time.
Cost : $449,

2.5-inch, 260,000-color display

Navigation buttons lie completely flush with the surface of the phone

MP3 file support,

Full Bluetooth connectivity

SMTP, and IMAP4
2005: WiFi broadband internet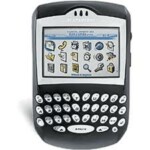 In 2005 the revolutionary Blackberry 7270 appeared featuring Wi-Fi leading to an addiction which was jokingly referred to as "Crackberry". With the availability of the internet on mobile phones people became addicted to their Blackberry mobile phones, checking their email whilst brushing their teeth or at the dining table – it's not so different today is it?
2006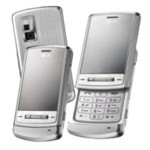 The LG Shine came out in 2007 weighing a mere 118g, measuring 99.8mm x 50.6mm x 13.8mm and featuring:
Operating system: Java MIDP 2.0

CPU: ARM9 115 MHz

Memory: 50 MB Internal, microSD (TransFlash) external memory card slot

Battery: 800mAh Li-Ion

Display: 240 x 320, 2.2-inch Display 262K-color TFT LCD

Camera: 2.0 megapixels + Autofocus
2008 – Apple IPhone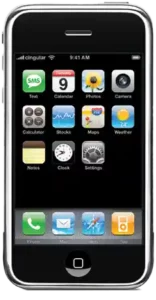 In 2008 the Apple iPhone 3G with its pioneering technology changed the way that we perceive mobile phones forever. The touchscreen interface on the iPhone became the design of choice and its apps were so popular that by 2010 Apple had sold 50 million iPhones and nowadays it is not unusual for sales to top 30,000 a month
There are of course, many other manufacturers of mobile phones who have based their designs on the Apple iPhone, and technology is progressing so fast that who knows what next year's fashionable model will be? Perhaps we are even coming to the end of an era with hand held mobile phones. The Google glasses are on the market now and it is likely that these, and other wearable computers are the future of mobile communication.
2011 – Siri Voice Assistant
In October 2011 Apple launched a new iPhone4 which had the newest feature – voice assistant Siri. Siri was designed to be a virtual assistant that you could ask questions and give simple commands to, such as set an alarm or tell the weather forecast. You can learn more about Siri and how the technology has been developing over the years here.

2023
Here we are at the doorstep of 2023. What do smartphones offer for their billions of users today? The answer is almost every service you can think of. If previously many retail and non-retail businesses heavily invested in their online presence, after the Covid-19 pandemic many companies completely switched online and got their mobile apps. Thanks to that you can find a match on Tinder, order a taxi on Uber, book a reservation in a cafe or a cinema all through your smartphone online. You no longer need to own a digital camera, mp3 player, a tablet or even a computer. A smartphone is your number one device. Nowadays smartphones have built-in technologies that are more advanced than computers Nasa used to launch Apollo 11.
But what technological advancement can we expect from smartphones in the next decade? The truth is that we can only guess. Obviously, it is reasonable to expect more from your phone camera, voice assistant and data speed. Tech companies will probably focus on making user interaction with smartphones more and more intuitive, meaning that your smartphone will be able to predict more accurately what you are looking for. You won't have to pick up your smartphone as much, if at all. You won't need to physically type in what you are looking for. Your phone will do that for you through voice assistance.It will also have full control over all devices in your house such as tv. fridge, washing machine, air conditioner, radiators, lighting, etc. In order to achieve all that, big tech will be further developing artificial intelligence (AI), such as voice assistants Alexa and Google Home. The Google glasses are on the market now and it is likely that these, and other wearable computers are the future of mobile communication. Meta (previously Facebook) is still working tirelessly on Oculus VR (virtual reality) headset. Mark Zuckerberg strongly believes that VR is the future of communication. You will be able to talk to any person in the world and have a real-life presence effect just like in your favourite Star Wars movie. To make sure that smartphones can accommodate all the newest advancements, we can expect 6G and even 7G cellular technologies. 6G and 7G will ensure your seamless user experience while streaming videos, playing games or having video conferences in VR.
Furthermore, the size of smartphones will most likely shrink. You have probably noticed that tech companies have already stopped equipping their newest phones with the headphone jack. One of the reasons is to make smartphones slimmer. Samsung has just launched their new Galaxy Z Flip 4 that has all the smartphone features yet it folds down into a very compact pocket size.