A new hospital was built in Mollet Del Valles, Spain. The hospital is a large, cutting edge, healthcare development of 26,650 m2. The architects, Corea Moran Arquitectura, used a mixture of glass, steel and concrete to create sustainable, bright, adaptable spaces within the facility.
Client: Hospital De Mollet, Mollet Del Valles. Barcelona, Spain
The Challenge
The new hospital building was constructed using modern, high insulation materials. The windows have a metal oxide layer on them. The walls have foil-backed insulation. These metal layers block radio frequency, and the result is that no mobile signal can penetrate the fabric of the building.
As a consequence, patients, visitors and staff could not use their phones for communication.
The hospital was looking for a mobile signal solution, and reached out to Grupo Espai Digital. They looked into many options and chose a Stella Doradus solution for two primary reasons. 
The hospital required a multi-carrier solution that would distribute the mobile signal of all of the mobile carriers, Vodafone, Orange, Yoigo and Movistar, within the hospital. This would enable everyone to make and receive calls from their own phone with any operator. Other competitive systems could only amplify one specified operator, and for a building that caters for large numbers of people, all using different networks, this was a huge disadvantage. The Stella solution amplifies all operators and this was of primary importance.
Other systems were very expensive, and the hospital was looking for a more cost-effective solution. 

The Solution
The hospital contacted Grupo Espai Digital. They wanted to enable unlimited numbers of people to access full mobile coverage across all Spanish mobile networks. Grupo Espai Digital recommended the Stella 5 band repeater system which amplifies all operators for voice and data. This system consisted of a repeater and several line amplifiers, which ensured mobile signal was distributed deep into the building.
The Stella 5 band repeater system allows patients, visitors and staff to access mobile data from their own operator, for calls and internet, using their own data plan.
Grupo Espai Digital's electrical expertise, coupled with their knowledge of the Stella system, enabled them to seamlessly install the equipment from the basement to the top floor of the hospital. They installed 1 repeater, 11 line amplifiers and 39 ceiling antennas throughout the hospital, with just 1 external antenna on the roof.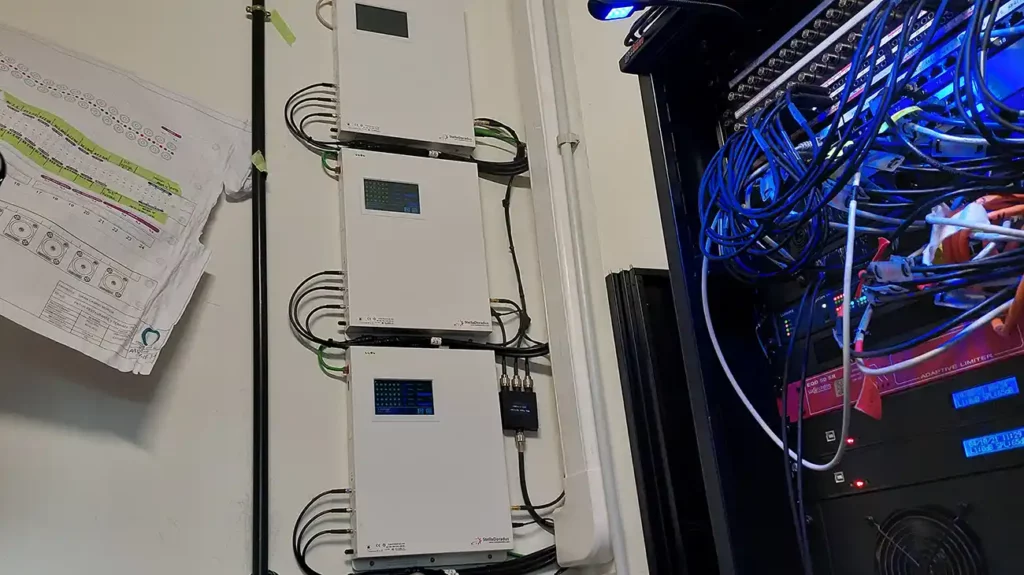 The Results
Hassle free installation
The repeater system was installed quickly and effectively without excessive disruption to the hospital. All mobile operator's signals are now available inside the building, allowing both staff, patients and visitors to make and receive calls.
System operates quietly on the operators network
The system is built with smart technology, where it works quietly on the operator's network. The system amplifies the mobile signal without any feedback or disruption to the operators' masts.
Quality voice calls,5G, 4G and 3G signal
In addition to enabling people to make and receive calls, 5G, 4G and 3G data signals are also amplified. This allows access to high-speed mobile internet. Patients can now access high speed internet during their visit, allowing them to work off their own data plan with no additional costs or management required from the hospital.
Cost effective
The Stella Repeater System was a success and proved to be considerably cheaper than other solutions.
No need to manage user Security and GDPR
Unlike WiFi, password management is not required, yet the system amplifies all operators' networks, supports unlimited users and enables access to high speed internet, enhancing everyone's digital experience within the hospital.
"The installation of the "Hospital Mollet" is complete and everything works correctly. It is a great installation of 11 line amplifiers, 1 repeater and 39 antennas inside the Hospital, and has been a very rewarding experience for all the senses. The customer is satisfied."

-Jeroni
Grupo Espai Digital
Spain, Barcelona
www.espaidigital.org