The pandemic caused by the SARS-COV-2 coronavirus, which causes COVID-19 disease, has put our public and private health services in peril. The virus's frightening capacity to spread has led to thousands of outbreaks, and millions of infections.
Many of these, due to the seriousness of the symptoms, have required immediate hospitalisation, including admission to intensive care units (ICU). So much so, that hospitals and health centres around the world have become stretched to the limits, unable to accommodate, and care for, such a large number of patients at the same time.
In addition to this, there's a need to shelter and isolate people affected and displaced by the pandemic, by providing them with shelter, food, and basic services.
These needs have given rise to the creation of temporary or improvised shelters, in already-existing buildings, such as shelters, hotels, or reception centres, or in infrastructures adapted for such a situation, such as sports centres, schools, or trade fair centres (such as the one installed in pavilions 7 and 9 of the IFEMA exhibition centre in Madrid, Spain, or in the Fira de Muestras, a famous exhibition centre in Barcelona).
Requirements for a temporary COVID-19 shelter
The main objective of temporary shelters is, primarily, to provide patients with care and shelter from COVID-19, and, in order to fulfil this function, the following points should be observed, at the very least:
Providing separate areas for sick or symptomatic people, and the healthy.
Ensuring the provision of essential services (food, hygiene, communications).
The capacity to provide the necessary medical care.
Monitoring the application of specific health and hygiene standards: the use of masks, hydro-alcoholic gels, and frequent hand washing.
Social distancing: they must ensure that there's a distance of at least 1.5 metres between people. Saturation must be avoided.
The ability to detect new cases and investigate patients' contact histories in order to identify new outbreaks.
In these conditions of forced isolation, the use of mobile phones to stay in touch with family and friends, to stay informed, or for work and leisure, is of utmost importance.
As we've already mentioned, these shelters are often installed in infrastructures that were never intended as accommodation. As a result, the mobile signal inside the buildings can be very weak or even non-existent. Thanks to the use of mobile signal repeaters, the quality of the mobile signal indoors can be radically improved, ensuring that people are still able to call and connect to the Internet.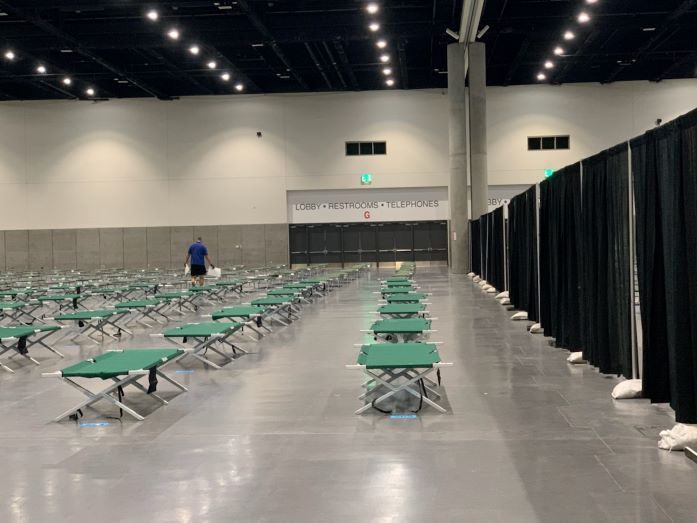 How can a mobile signal repeater help communication in a COVID-19 temporary shelter?
The characteristics of the following types of buildings or infrastructures used as COVID-19 temporary shelters may prevent mobile signal reception indoors:
Sports centres: These are often built or covered with metal sheets, which prevent the transmission of the mobile signal.
Trade fair buildings: These are often built with reinforced concrete, and glass with metal coverings that make it difficult for the signal to pass through.
Temporary infrastructures mainly made of metal: Metal is the main obstacle for the mobile signal here.
Mobile signal repeaters can easily provide a signal for the interior of these buildings. They do this by channelling the signal outside the building by means of an antenna that's usually placed somewhere up high (such as the roof). A cable then directs that signal inside the building, where it's amplified and distributed using interior antennas. Any problematic construction elements (metal sheets, concrete, glass, insulation, etc.) will no longer be a barrier to the mobile signal.
The number of residents in these shelters isn't a problem for a mobile signal repeater either, as all frequency bands can be amplified efficiently.
To comply with European regulations, Stelladoradus signal repeaters are approved and CE marked, which makes it possible to use them all over Europe. They are designed and manufactured in Ireland, where each repeater is thoroughly tested to pass all EU R.E.D regulation. Thanks to our extensive network of distributors and professional installers, we can also attend to you in your own language.
Please do not hesitate to get in touch with us regarding any questions you may have. and we will provide you with the best possible solution for your own particular situation.