Ok , I'm here to talk about what can be achieved with Three, the mobile operator, a MIFI device and a StellaDoradus repeater.
A MIFI device connects to the Three mobile network and converts the 3G/4G data signal to a local WIFI hotspot that all your devices can connect to. Your phone can also perform this function in hotspot mode.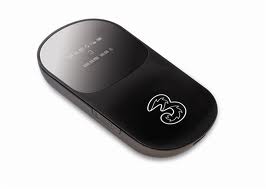 Three is offering unlimited data now, and at a very reasonable price too. Normally, we associate fast and reliable internet with DSL or Cable, but mobile broadband has caught up, and in many cases has surpassed DSL. With Three, it will take about 180 seconds to download a 2GB film. That's super fast.
Where I live, 5 KM from the local DSL exchange, I can get about 4-5 MBPS at best. (at 5km I am at the limit of where the service can reach). However, if I use my Three MIFI device, I get 20MBPS (and it's not even 4G yet)!
The only problem is that I live in a poor signal area in the countryside, and the Three signal in the house is terrible. Outside in the garden I get 2-3 bars on my phone. To solve this issue, I have installed the Stellahome repeater kit and this has boosted the Three mobile signal everywhere inside my house. My Mifi device can now connect to the mobile network inside my house and sets up a reliable WIFI hotspot. My desktop, my tablet and all my family's phones can now connect to this hotspot for data.
So now I pay the nominal monthly contract to Three and I get great internet speeds around my house. No need for DSL or cable at all.
And you don't even need a MIFI device. Instead, you can just use your phone and set it up in Hot spot mode. Your phone then becomes a little WIFI router and all your other devices can connect through it to access the internet.