After much time in development, we are finally introducing the new i-repeater.
So what is the i-repeater?
It is a new type of cellular repeater that can be monitored and controlled over the internet.
Why is internet monitoring useful?
It is useful for installation companies that want to be able to monitor all their repeater installations from one remote location.
This can save you trips out to customer premises in the case of any issues.
It can also be used as a sales tool to give your clients peace of mind that they have a monitored system. A service contract can be charged.
Consequently, this product should open up new markets, government, big buildings etc…
The i-repeater is 1002 series, which means it is legal and fully compliant to the EU standards.

The i-repeater can be used with line-amps, as shown in the image above, to distribute mobile signal into any sized building. The line-amps are also monitored.
This means, as an installer, you can see the complete health of the system from your computer/phone.
The i-repeater amplifies all frequency bands, 800 / 900 /1800 / 2100 and 2600Mhz, with 700Mhz to be added soon.
LCD touch panel

It has a 12cm touch LCD display. This display clearly shows you the signal strength of the frequency bands. Using the touch input, you can access the "engineers menu", which will show you detailed information about the amplifier. You can also , switch on/off or attenuate individual frequency bands.
Remote access
Log onto www.stellacontrol.com to monitor all your installations.
View the state of all your installations / buildings.
View all repeaters / line amps in a particular building.
Explore the details of a particular repeater.
Switch on/off or attenuate the bands of this repeater.
View a history of "events" of this repeater.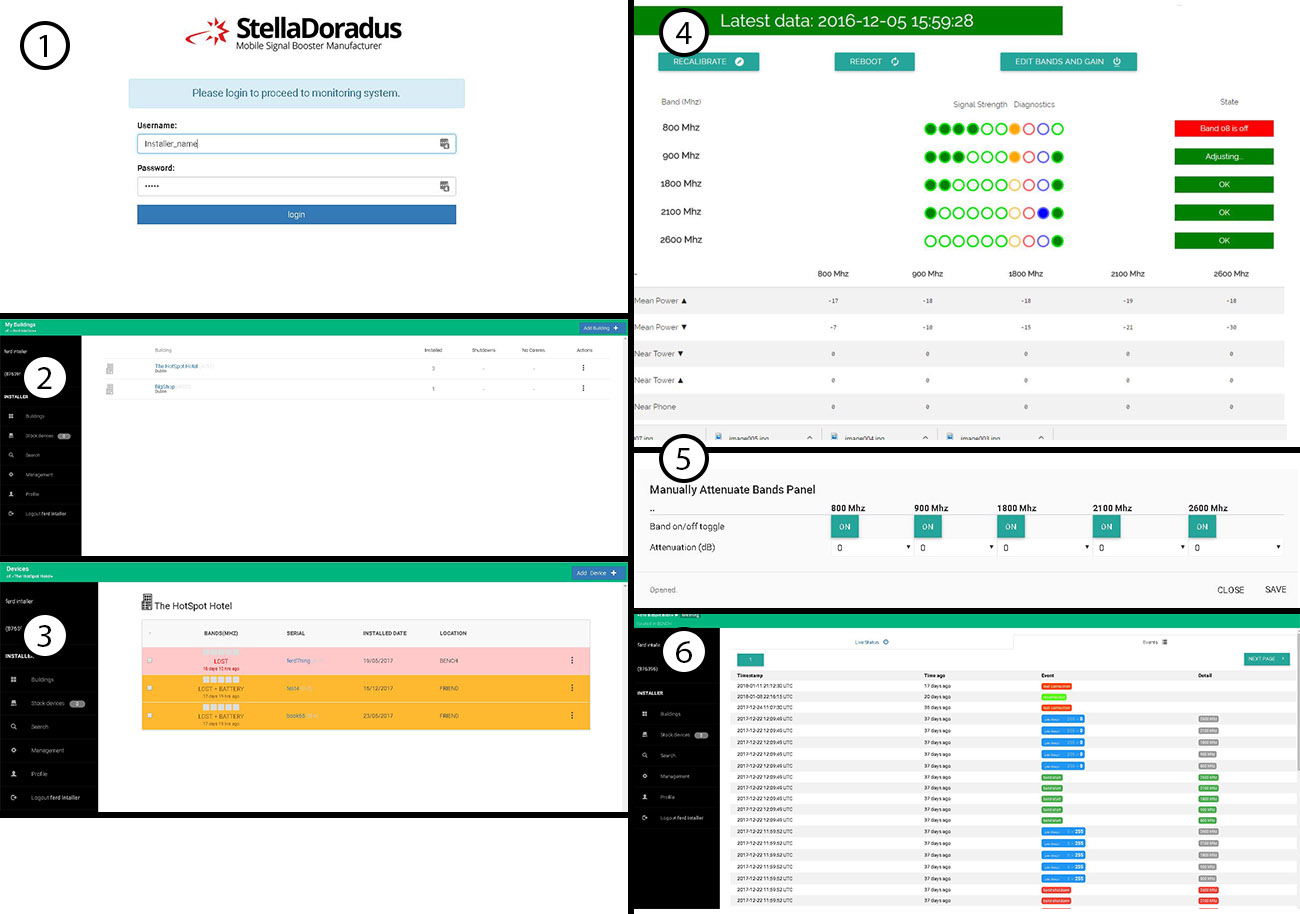 Below is a diagram of the basic setup of the i-repeater in conjunction with 4 line-amps for increased coverage.