See how you can boost signal in public spaces such as a shop, hotel, bar, restaurant and more.
In this article I will discuss the best solutions for boosting mobile signal in your building.
Whether you have a high street shop, a restaurant or a hotel, office block, I will discuss 3 main solutions to get mobile signal inside your building.
In order to propagate mobile signal into a large building you will need a D.A.S system. There are 3 types of DAS system(distributed antenna system). We will discuss the 3 types of DAS: Passive, Hybrid and Active DAS.
Firstly, what is DAS?
Distributed Antenna System (DAS)
DAS (distributed antenna system), is a network of antennas inside a building that are separated from each other. Each of these antennas are connected to a common source via a transport medium (co-axial cable, fibre etc..) that provides wireless service. (GSM, 3G, 4G, 5G)
The idea is to split the transmitted power among several antenna elements, separated in space so as to provide coverage over the same area as a single antenna but with reduced total power and improved reliability. A single antenna radiating at high power is replaced by a group of low-power antennas to cover the same area .
DAS systems are typically used for two main applications: providing mobile coverage and adding capacity.
In situations where high demand from users might exceed existing coverage (like a football stadium, outdoor concerts), DAS  helps increase capacity and reduce load from the macro network.
1)Passive DAS
Passive DAS system uses passive components like coaxial cable and splitters to distribute signal around the building. They use bi-directional amplifiers to rebroadcast signal from the cellular network using a donor antenna on the roof.
There are some limitations to the reach of passive DAS solutions. Because they use coaxial cable to distribute the signal(as opposed to fibre optic), losses are higher.  The further away the antennas are from the amplifier, the higher the signal loss. This signal loss results in lower downlink output power. These restrictions mean that the maximum coverage area for a passive DAS system is typically around 4000M2. You can increase this by adding more amplifiers, but you will not be able to penetrate deep within your building.
The advantages of passive DAS solutions are considerable. In particular, they are considerably cheaper than active DAS. Because they simply re-broadcast the mobile network's signal from outside, there is less need for carrier approval and coordination.  This means that there is no need for lengthy extra bureaucracy, and deployment times can be as quick as a few weeks.
Passive DAS is suitable for shops, small office blocks, restaurants..
Coverage is between 4000m2 -> 6000m2 typically.
Passive DAS provides GSM, 3G, 4G and 5G for ALL operators. This means your customers/staff, get exactly the same mobile service as they would if they were outside the building.
If your building is not that large, this is by far the cheapest solution for you.
Pros: Lowest cost solution, All mobile operators boosted, mid-range coverage at 4000m2, May not need to inform operators.
Cons: Not suitable for very large buildings, ie greater the 6000m2, Requires good mobile signal quality outside building. If there is no mobile signal outside the building, this system will not work. You cannot amplify zero signal!
Here are a list of solutions/products from Stella Doradus that are based on Passive DAS.
To see case studies, click here
2)Hybrid DAS
Hybrid DAS is similar to passive DAS. The only difference is that extra amplifiers are added to the system to help propagate the signal deeper into the building. These added amplifiers are call "line-amplifiers".
The signal experiences losses in the co-axial cable. To compensate for these losses, the line-amplifiers are used to boost the signal back up to an optimal level. This allows us to bring the signal deep into the building where coverage is required.
Pros:
Low cost solution. (almost 5-10 times lower cost than Active DAS)
All mobile operators boosted
All networks boosted (GSM, 3G, 4G)
High-range coverage at 100,000m2
May not need to inform operators. (country specific)
Cons:
 Requires professional install
Here is a list of solutions/products from StellaDoradus that are based on Hybrid DAS.
3) Active DAS
Finally , we have Active DAS
Active DAS systems differ from the previous 2 in a few ways. Firstly, it uses fibre optic cable to distribute the signal around a building. The signal source is called the "head-end" and it combines signals from multiple carriers. Each carrier, Vodafone, Orange etc.. each supply signal to the building independently, usually through a large fibre connection coming in from the street. (sometimes from a donor antenna on the roof also.)
Features:
Cabling medium: fibre optic
Expensive head-end equipment used to apply strict filtering on the mobile spectrum.
Unlimited distribution of antennas.
Suitable for government buildings, very large office blocks, stadiums..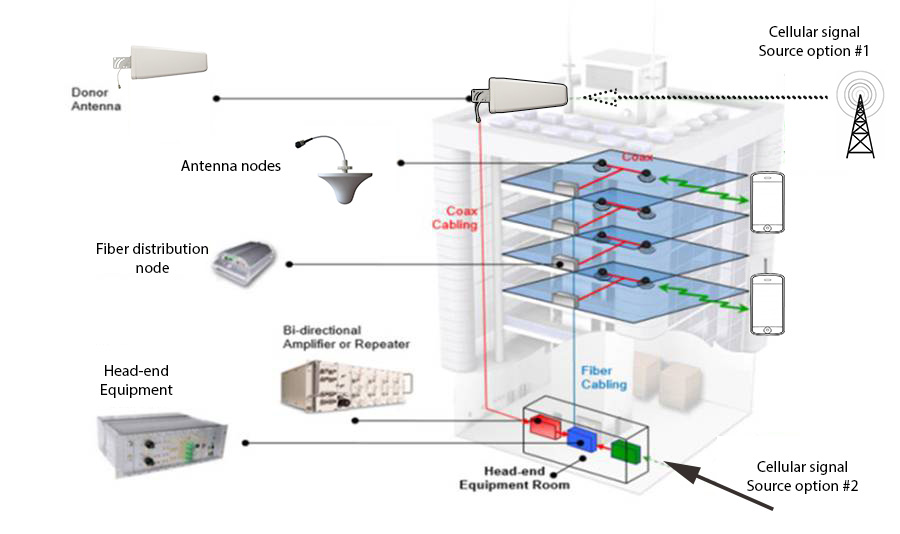 The equipment used in an active DAS isn't cheap. This is one of the main drawbacks to an active DAS system – they are extremely expensive.
The other big inconvenience of active DAS is that every installation must be approved by the mobile carriers  affected (Vodafone, Orange etc…) . This is EU regulation. In practice, carrier approval is usually granted, but the bureaucracy involved is complicated, and the whole project can cost millions of euros and take years to get up and running.