1) Boost mobile signal for the home with internal coverage 1000m2
By far the easiest and most effective solution to boost mobile signal in your home is to install a mobile signal repeater – the StellaHome repeater kit.
You don't need to consult your mobile operator.

You don't need to call an installation team to install it for you.
You simple buy and install the repeater kit yourself. It's that easy!
2) Boost mobile signal for only one room with internal coverage 300m2
Perhaps you don't need such a large and only need mobile coverage for one room. In this case, you can install the StellaRoom repeater kit.
This kit will boost mobile signal for all your phones and laptops in an area of 300m2. That's about one room in your home.
-Easy to install

-Will boost mobile signal of any mobile operators.

-Unlimited phone calls or data connections at the same time
3)If, on the other hand, you need to boost mobile signal for a much larger internal area, the StellaOffice repeater kit is for you.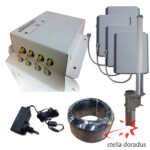 The stellaOffice repeater kit will boost mobile signal into 4 separate areas in a building. Each area will provide 1000m2 mobile coverage. That's a total of 4000m2 . This solution is ideal for large houses and even multistorey offices.
-Everybody's phone signal gets boosted no matter which operator they are subscribed to.

-Everybody can use the repeater, even at the same time.
No hidden costs, the repeater simply grabs the available signal from outside your building and brings it inside, where all the phones can communicate with it.
So there you have it. Stelladoradus has a repeater solution for all situations. If you need more information, browse our website where you will find lots of valuable information about repeaters.Or go straight to our shop for prices.