One of the main issues that affects cellular coverage in large buildings is the building structure itself. The walls and windows block mobile signal and this results in dropped, or poor quality calls inside. The same problem is found with regard to mobile data connections that are extremely slow and do not allow access to the network at an appropriate speeds . All this compromises the effectiveness of people working within the building.
The best way to permanently solve these problems is by installing a repeater system. Repeaters allow you to recreate internally the radio conditions that exist out side the building. You can then access all the services provided by all the local operators with the same speed and quality as if you were in an outdoor environment.
The operation of a repeater is very simple and involves the use of an external antenna, an amplifier, and internal panel antennas. The outside antenna is connected via cables to the amplifier,and then to panel antennas. These panel antennas are installed in areas that need coverage. The Stellaoffice repeater kit has 4 internal panel antennas in the basic kit.
The main advantages with this system are :
Re-create internally the same coverage that you have externally , with an extra boost from the hi gain external antenna.
The ability to use all available frequencies ( 800MHz – 900MHz – 1800Mhz – 2100Mhz – 2600MHz ), and then all the services under the GSM / UMTS / LTE, thanks to tri-band or 5band solutions.
Maximum coverage: 16 floors X 1000m2 = 16000Mt2
Easy to install.Once antennas/cables are installed, just plug in the power. The system manages itself.
Oscillation / interference detection. Automatic Gain Control /adjustment. / Auto switch off.
Stelladoradus works with several operators and regulators across Europe to bring to you the most regulatory compliant solution of indoor coverage.
All repeaters Stelladoradus are CE certified.
Up to 100 people can use the system at the same time.
In addition Stelladoradus has authorized dealers and installers across Europe to ensure that the system is configured and installed correctly.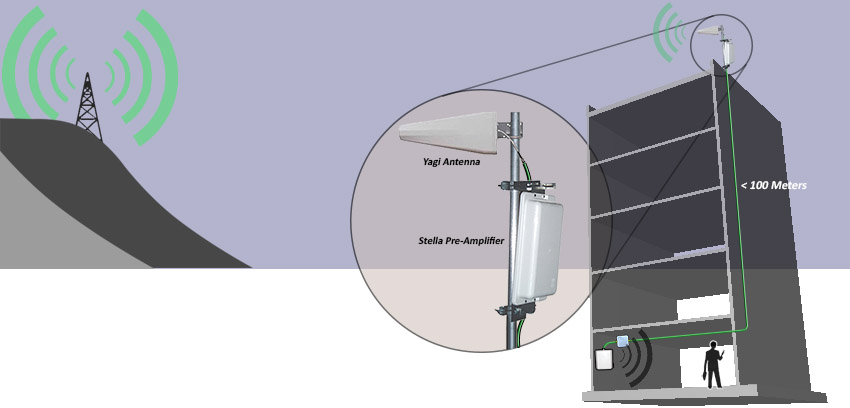 In situations where it is necessary to use cable runs up to 100m between the external antenna and the repeater, use a pre -amplifier ( StellaPreAmp ) , to be mounted in proximity to the external antenna , which allows to have no signal losses thus ensuring optimal coverage even at greater distances .